AirSep Freestyle Portable Oxygen Concentrator
AirSep Freestyle Portable Oxygen Concentrator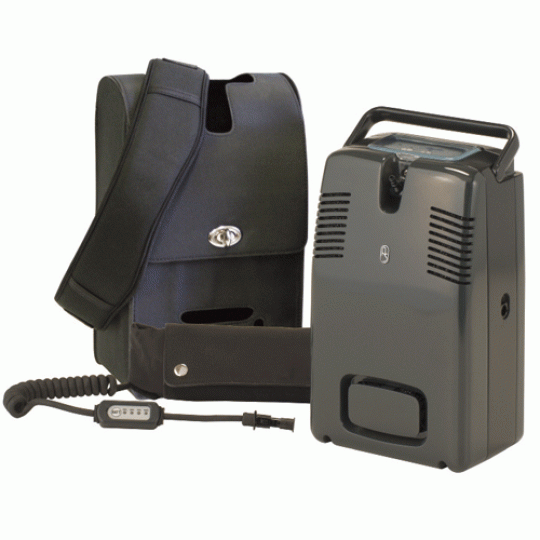 Pictures May Show Upgrades
Downloads
Airsep
(Model:
AS095)
What's Included

FREE Shipping
Free 6 Month Supply of Nasal Cannulas!
No Sales Tax!
3 Years Warranty


| Weight | Liters Per Minute | Sound Level | Length | Width | Height | Warranty |
| --- | --- | --- | --- | --- | --- | --- |
| 4.4 lbs | 1-3 LPM | 38-44 dB | 6.1 | 3.6 | 8.6 | 3 Year Limited |
AirSep Freestyle Portable Oxygen Concentrator
The Airsep Freestyle is the lightest, full featured portable concentrator that goes up to a setting of 3. It weighs less than 5 pounds and is tailored for the active user. The Freestyle is the quietest and lightest portable concentrator that goes up to a setting of 3. It offers medical grade oxygen and frees you from worrying about oxygen refills. It has a Max Pulse Setting of 3 and has a Max 02 of 332 per minute. The FreeStyle compares to the smallest concentrators available out today and offers a limitless supply of O2 for a satisfying travel experience with oxygen. It's oxygen freedom!
It has a flip open easy to read clear LED Control Panel that has flow setting buttons (1-3) and a battery test button, which is used to check the life of the battery. It has large soft buttons with the settings (1-3) easily displayed on it.
Just touch the flow you need and you are ready to go, no need for a on and off switch. There is a battery button that displays the internal battery in increments of 25%.
The Freestyle features an internal battery that has durations of up to 2.5 hours on a setting of 2. There is an optional battery belt that can be used in combination with the internal battery that can provide an additional 6 hours on a setting of 2. The FreeStyle with the AirBelt combines function and fashion to make it the advanced travel oxygen solution. You will travel easily between power sources and will no longer need to worry about your oxygen running out. The AC/DC power supply makes operating the unit and recharging the battery simple and trouble-free.
It can be worn over your shoulder with a carrying bag or with an optional harness to be converted into a backpack. With the FreeStyle you can do any activity including a sporting event, an education class, bingo night or a concert of your favorite band or musician.
The Airsep Freestyle Starter Package includes the Freestyle unit, internal battery, universal power supply, DC and AC cord, shoulder strap, cannula and user manual. It features a 3 Year Warranty on the unit and 1 Year Warranty on batteries and accessories.
The FreeStyle Portable Concentrator and the AirSep Airbelt are made in the USA
Product Features:
Operates on AC/DC and rechargeable battery that has exceptional battery life
FAA Approved for on board/in-flight usage
Fashionable carrying case that has an adjustable shoulder strap
Up to 10 hours of battery life (with optional Airbelt)
Product Dimensions
6.1 inches wide x 3.6 inches deep x 8.6 inches high
Product Weight
4.4 pounds (unit only)
Warranty
Three-year Warranty on the unit and One-year Warranty on battery and accessories
Alert/Alarm
Cannula disconnect, Start-up, Pulse flow, Breath rate, Battery charge state, Low battery, High temperature, General malfunction, High and low pressure
Battery Charging
3.5 hours
Battery Duration

2 Hours - 3 Setting
2.5 Hours - 2 Setting
3.5 Hours - 1 Setting

Battery Cycle Life:
Around 300 charges, then only 80% capacity or less

FAA Approved
Yes
Manufacturer
Airsep
Maximum Oxygen Capacity
332 max 02/min
Noise Level
38 - 44 decibels depending on setting
Operating Ranges

41 - 104 Fahrenheit (5 - 40 Celsius)
Up - 10,000 feet (3048 m)


Oxygen Concentration
90% oxygen +5.5% -3%
Power
Universal Power Supply
AC Power: 100-240 VAC, 50/60 Hz; 11-16 VDC
DC Power: 11 - 16 VDC, 6.0 amps at 12 VCD
Rechargeable, lithium battery
Storage Ranges
-4 - 140 Fahrenheit (-20 - 60 Celsius)
Warm-up Time
2 minutes
3 Year Limited Warranty on Device
1 Year Limited Warranty on Battery and Chargers
Our service area covers most of Southern California including Los Angeles and surrounding cities.
To see a full list of cities covered in our service area please click here.