Invacare 9000 XTR Tilt & Reclining Wheelchair
Invacare 9000 XTR Tilt & Reclining Wheelchair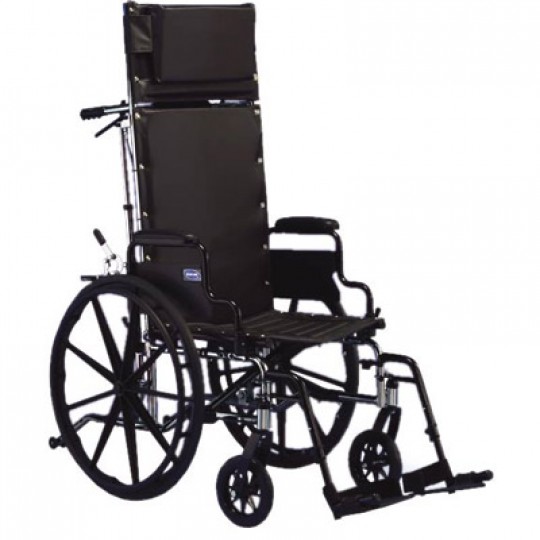 Pictures May Show Upgrades
Invacare
(Model:
9000 XTR)
What's Included

Free Fast Shipping
5 Year Limited

| Weight | Weight Capacity | Seat Width | Seat Depth | Warranty |
| --- | --- | --- | --- | --- |
| 52 lbs. | 250 lbs. | 14" - 22" | 16" - 18" | 5 Year Limited |
The Invacare 9000 XTR Reclining wheelchair is the number one choice for individuals who demand a truly versatile, yet moderately priced lightweight wheelchair. The 9000 XTR Reclining Wheelchair can be configured into an endless number of seat widths, depths and heights, and has multiple frame and upholstery options. The recliner has been standardized to interchange components and accessories with the other 9000 series chairs. Whether you need the lighter recliner package or the assist recliner package, the 9000 XTR Recliner can provide it.
Features
Durable, low-maintenance, triple chrome-plated, carbon steel frame is long-lasting.
Dynamic recline range from 90º to 155º
Multiple frame color variations for customizing. Multiple wheel offerings allow variation of seat-to-floor heights.
Rear axle base moves, providing stable center of gravity in recline position.
Urethane rear tires, mounted on "no flex" wheels, offer superior performance. Urethane casters for better ride and lighter weight.
| | |
| --- | --- |
| Seat Width: | 14", 16", 18", 19", 20", 22" |
| Seat Depth: | 16", 17", 18" |
| Seat To Floor Height: | 19.5" 17.5", 18.5" with rear wheel package |
| Back Height: | 32" recliner (22" high back, 10" removable headrest) |
| Arm Style: | Full-length fixed height, padded, removable Desk-length fixed height, padded, removable Full-length adjustable height, padded, removable Desk-length adjustable height, padded, removable (All arms are conventional) |
| Front Riggings: | Hemi swingaway footrest 17"-20" Hemi swingaway padded elevating legrest 17.5"-21" Hemi articulating elevating legrest 17"-25" (Footplates available in aluminum or composite) |
| Product Weight: | 51 lb. without lift package (9RC/WD86/R/28/2R) 62 lb. with lift package |
| Product Weight Capacity: | 250 lb. |
Limited Warranty
PLEASE NOTE: THE WARRANTY BELOW HAS BEEN DRAFTED TO COMPLY WITH FEDERAL LAW APPLICABLE TO PRODUCTS MANUFACTURED AFTER JULY 4, 1975.
This warranty is extended only to the original purchaser who purchases this product when new and unused from Invacare or a dealer. This warranty is not extended to any other person or entity and is not transferable or assignable to any subsequent purchaser or owner. Coverage under this warranty will end upon any such subsequent sale or other transfer of title to any other person.
This warranty gives you specific legal rights and you may also have other legal rights which vary from state to state.
Invacare warrants the side frames and cross members of this product when purchased new and unused to be free from defects in materials and workmanship for a period of five (5) years from the date of purchase from Invacare or a dealer, with a copy of the seller's invoice required for coverage under this warranty. Invacare warrants the upholstered materials (seat, back and armrests of the arm assembly) and remaining components of this product when purchased new and unused to be free from defects in materials and workmanship for a period of thirteen (13) months from date of purchase from Invacare or a dealer, with a copy of the seller's invoice required for coverage under this warranty. If within such warranty periods any such product shall be proven to be defective, such product shall be repaired or replaced, at Invacare's option. This warranty does not include any labor or shipping charges incurred in replacement part installation or repair of any such product. Invacare's sole obligation and your exclusive remedy under this warranty shall be limited to such repair and/or replacement.
For warranty service, please contact the dealer from whom you purchased your Invacare product. In the event you do not receive satisfactory warranty service, please write directly to Invacare at the address at the bottom of this page. Provide dealer's name, address, the product model number, date of purchase, indicate nature of the defect and, if the product is serialized, indicate the serial number. Do not return products to our factory without our prior consent.
LIMITATIONS AND EXCLUSIONS: THE FOREGOING WARRANTY SHALL NOT APPLY TO SERIAL NUMBERED PRODUCTS IF THE SERIAL NUMBER HAS BEEN REMOVED OR DEFACED, PRODUCTS SUBJECTED TO NEGLIGENCE, ACCIDENT, IMPROPER OPERATION, MAINTENANCE OR STORAGE, PRODUCTS MODIFIED WITHOUT INVACARE'S EXPRESS WRITTEN CONSENT INCLUDING, BUT NOT LIMITED TO, MODIFICATION THROUGH THE USE OF UNAUTHORIZED PARTS OR ATTACHMENTS; PRODUCTS DAMAGED BY REASON OF REPAIRS MADE TO ANY COMPONENT WITHOUT THE SPECIFIC CONSENT OF INVACARE, OR TO A PRODUCT DAMAGED BY CIRCUMSTANCES BEYOND INVACARE'S CONTROL, AND SUCH EVALUATION WILL BE SOLELY DETERMINED BY INVACARE. THE WARRANTY SHALL NOT APPLY TO NORMAL WEAR AND TEAR OR FAILURE TO ADHERE TO THE PRODUCT INSTRUCTIONS.
THE FOREGOING EXPRESS WARRANTY IS EXCLUSIVE AND IN LIEU OF ANY OTHER WARRANTIES WHATSOEVER, WHETHER EXPRESS OR IMPLIED, INCLUDING THE IMPLIED WARRANTIES OF MERCHANTABILITY AND FITNESS FOR A PARTICULAR PURPOSE, AND THE SOLE REMEDY FOR VIOLATIONS OF ANY WARRANTY WHATSOEVER, SHALL BE LIMITED TO REPAIR OR REPLACEMENT OF THE DEFECTIVE PRODUCT PURSUANT TO THE TERMS CONTAINED HEREIN. THE APPLICATION OF ANY IMPLIED WARRANTY WHATSOEVER SHALL NOT EXTEND BEYOND THE DURATION OF THE EXPRESS WARRANTY PROVIDED HEREIN. INVACARE SHALL NOT BE LIABLE FOR ANY CONSEQUENTIAL OR INCIDENTAL DAMAGES WHATSOEVER.
SOME STATES DO NOT ALLOW THE EXCLUSION OR LIMITATION OF INCIDENTAL OR CONSEQUENTIAL DAMAGE, OR LIMITATION OF HOW LONG AN IMPLIED WARRANTY LASTS, SO THE ABOVE EXCLUSION AND LIMITATION MAY NOT BE APPLICABLE.
THIS WARRANTY SHALL BE EXTENDED TO COMPLY WITH STATE/PROVINCIAL LAWS AND REQUIREMENTS.
Our service area covers most of Southern California including Los Angeles and surrounding cities.
To see a full list of cities covered in our service area please click here.