Power / Electric Patient Lift Rental
Power / Electric Patient Lift Rental
Sling NOT included, price varies by sling type
(Model:
Rent-Power-Patient-Lift)
Weekly: $250.00
Monthly: $350.00
What's Included

Rent-to-Buy Option (Only first month's payment applies towards purchase)
In Stock! Call Now: 818-981-9906
We always carry this item in stock for our customers to rent.
The rental equipment must be returned on the due date to one of our locations or picked up by one of our delivery drivers (fees apply). If you are unable to return the equipment on the due date your rental will be automatically extended by daily, weekly, or monthly depending on the lowest cost to the customer.
All our rental equipment can be picked up from one of our locations below.
We can deliver rental equipment to our service area customers (fees apply).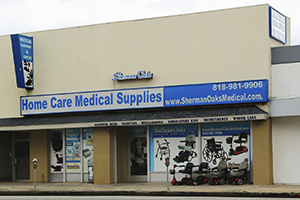 Hours:
Mon-Fri: 9AM-6PM
Sat: 10AM-3PM
Sherman Oaks Showroom
Phone: 818-981-9906
Fax: 818-981-6698
info@shermanoaksmedical.com
Hours:
Mon-Fri: 9AM-5:30PM
Sat: 10AM-3PM
Repair Center & Warehouse
Phone: 818-896-9996
Fax: 818-896-4851
repairs@shermanoaksmedical.com
| Weight | Weight Capacity |
| --- | --- |
| 96 lbs. | 350 lbs. |
Too often, not using patient lifts lead to caregiver back injuries. Using an electric patient lift can make transport situations safe and affordable for everyone involved. The new higher lift range allows easy access to beds, chairs, toilets, floors, and tubs (with at least 4.5in clearance). Electronic system includes two 24-volt batteries: one for lift, one for battery-charging station; a manual emergency lowering device, and anti-entrapment if boom meets any resistance while lowering. Height range allows lifting from floor and high surfaces. Removable battery pack eliminates downtime and simplifies the charging process. Safety-tested for highest quality standards. Base legs adjust easily and lock securely into open position with the padded shifter handle. Total pinch-point protection covers all moving parts for added safety. Manual lowering for instant response to power loss. Padded swivel bar with 360 degrees rotation and six-point hookup allows use of chain-free slings as well as older-style slings with chains or straps. Covered base provides protection against wear, dirt and moisture. All our rental equipment is either brand new or in a good condition, thoroughly cleaned and sanitized after every rental.
| | |
| --- | --- |
| Lifts Patient from Floor | Yes |
| Disassembles for Transport/Storage | No |
| Maximum Capacity | 350Lb / 228Kg |
| Base Legs Length | 44.9" |
| Base Closed External Width | 24.9" |
| Based Open External Width | 42.9" |
| Mast Height | 48.3" |
| Base Height | 4.5" |
| Min. Lifting Height | 25.8" |
| Max. Lifting Height | 69.1" |
| Product Weight | 96Lb / 43.6Kg |
| Shipping Weight | 104Lb / 47.6Kg |
Our service area covers most of Southern California including Los Angeles and surrounding cities.
To see a full list of cities covered in our service area please click here.