Pride Backpacker® Plus Scooter & Electric Wheelchair Vehicle Lift
Pride Backpacker® Plus Scooter & Electric Wheelchair Vehicle Lift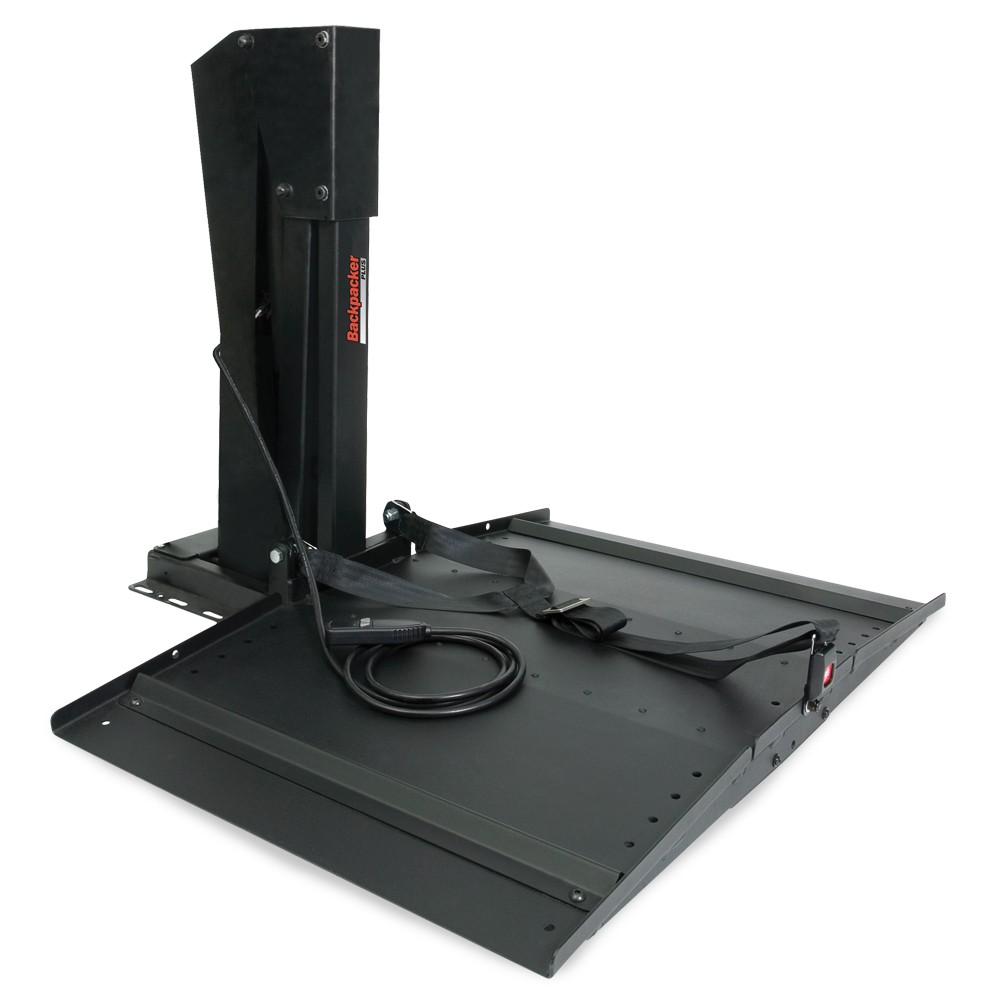 Pictures May Show Upgrades
Pride Mobility
(Model:
Backpacker Plus)
Get enhanced construction and a fresh new look with the Backpacker® Plus Interior Lift.
Pride Backpacker® Plus Scooter & Electric Wheelchair Vehicle Lift
Backpacker® Interior Lifts are specifically engineered for scooter and power chair transportation, while providing concealment and weather protection for your mobility product.
The low-profile, one-piece design, allows for easy loading and unloading of your mobility product –simply drive on and off the all-steel constructed platform.
Features include a durable 12-volt motor with easy-to-use two button hand control for simple and reliable operation.
Most applications do not require drilling or vehicle modification and include a quick install kit of ease of installation.
Pride Backpacker® Plus Scooter & Electric Wheelchair Vehicle Lift Features:
The quality construction and design you expect from Pride® Mobility Products
350 lbs. lifting capacity
Easy-to-use 2-button hand control
Can lift a variety of Pride® Scooters and Power Chairs
Adjustable wheel chocks on platform surface
Easy Loading
Simply drive on to load
Easy-to-Use Hand Control
Hand control offers simple operation
Battery Pack
This power source eliminates the need for wires to be run from the lift to the automobile battery
Securement Strap
Easily secure mobility product with built-in securement strap
Model

Backpacker Plus Interior Lift

Base Weight1
155 lbs.
Maximum Mobility Product Overall Weight2
350 lbs.
Maximum Mobility Product Width
27"
Overall Platform Length
44" (43" usable surface)
Maximum Travel Distance From the Ground
26"
Motor
Sealed 12 volt DC
Warranty
3-year transferable
Options
Battery pack w/charger
Vehicle Platform
Minivan, Cross-over,
Full-size van3
Notes:
1 Does not include any accessories or hardware.
2 Lifting weight does not include accessories or certain upgraded seating. Please contact Customer Service for greater detail.
3 Requires vehicle modification
3-Year Limited Transferable Warranty
Our service area covers most of Southern California including Los Angeles and surrounding cities.
To see a full list of cities covered in our service area please click here.