Pride Outlander LP Electric Wheelchair Vehicle Lift
Pride Outlander LP Electric Wheelchair Vehicle Lift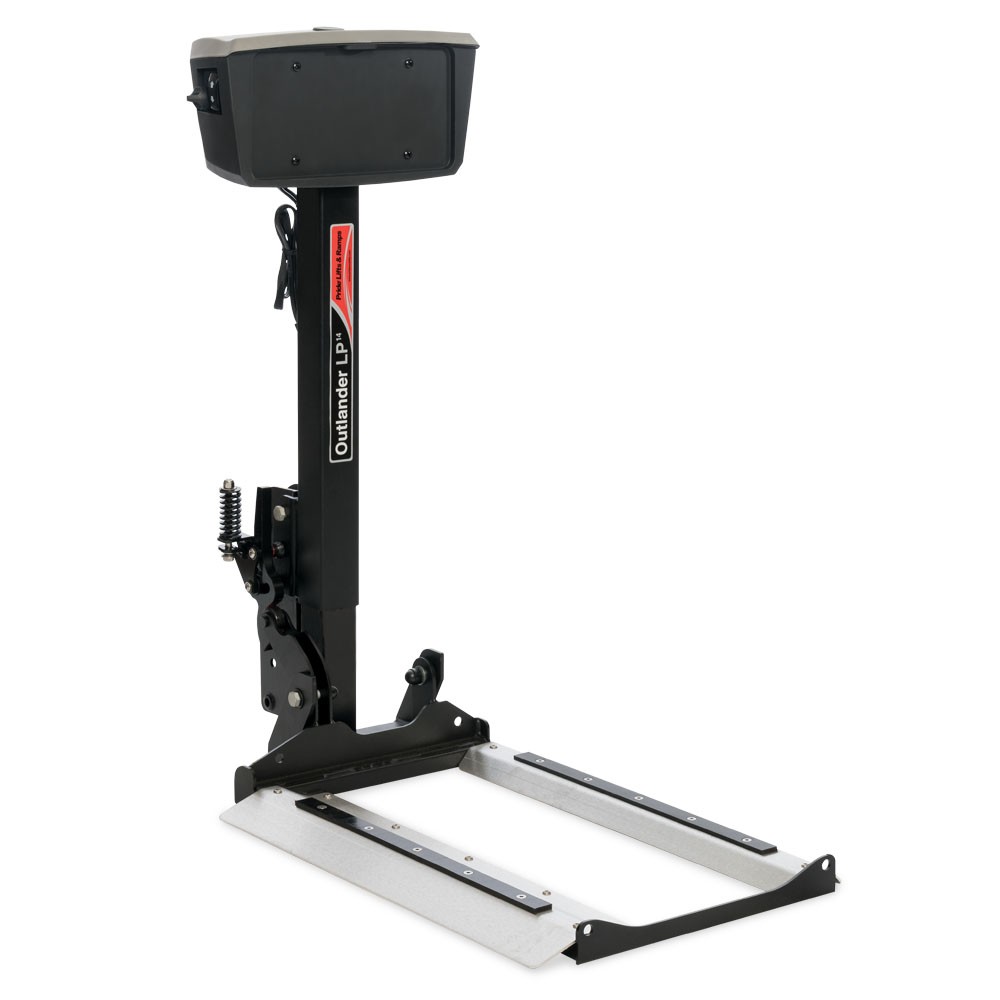 Pictures May Show Upgrades
Pride Mobility
(Model:
Outlander LP)
The Outlander LP Exterior Lift is ideal for sedans and has a 350 lb. lifting capacity.
Pride Outlander LP Electric Wheelchair Vehicle Lift
The Outlander LP Exterior Lift Series is comprised of low-profile lifts designed to take your 10" or 14" mid-wheel drive power chairs with you.
Low-profile lifts provide increased visibility while the lift is in-use or in the stowed position. The design also provides a shock-absorbing "cradle effect" which protects your power chair while the vehicle is in motion.
This is a great exterior lift option for sedans, SUVs, mini-vans, full-size vans and pick-up trucks.
Simple, hitch-based installation requires little to no modification of your vehicle and allows for easy removal.
Pride Outlander LP Electric Wheelchair Vehicle Lift Features:
Low-profile platform design is compatible with Class II or Class III/IV hitches
Compatible with 10-inch and 14-inch mid-wheel drive power chairs
Low-profile platform provides better visibility
350 lbs. lifting capacity
Standard license plate holder
Manual override
Shock-absorbing "cradle effect" protects power chairs from jarring vibrations
Easy Loading
Simply drive on to load
Compact Stowage
Easily folded when not in use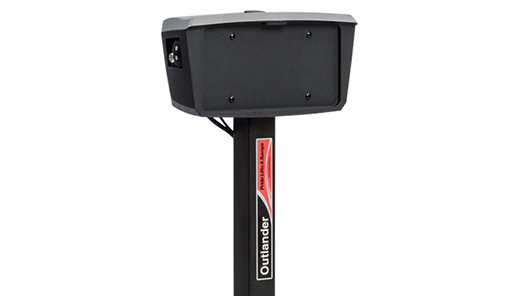 Integrated License Plate Holder
Keeps license plate visible
Toggle Switch
Easy to use toggle for up and down use
Model

Outlander LP Exterior Lift

Base Weight1
76 lbs for 10" Wheels
75 lbs. for 14" Wheels
Maximum Mobility Product Overall Weight2
350 lbs.
Maximum Mobility Product Width
27"
Overall Platform Length
19"
Maximum Travel Distance From the Ground
20"
Motor
Sealed 12 volt DC
Warranty
3-year transferable
Hitch Class3
Class II, III & IV
Options
Swing-away Adaptor
Battery pack w/charger
Vehicle Platform
Full-size van, Mini-van, Truck, Sedan, SUV and Crossover
Notes:
1 Does not include any accessories or hardware.
2 Lifting weight does not include accessories or certain upgraded seating. Please contact Customer Service for greater detail.
3 Hitch weight carrying capacity varies by vehicle. Call for details.
3-Year Limited Transferable Warranty
Our service area covers most of Southern California including Los Angeles and surrounding cities.
To see a full list of cities covered in our service area please click here.