ResMed AirCurve 10 S BiLevel Machine w/ HumidAir Heated Humidifier
ResMed AirCurve 10 S BiLevel Machine w/ HumidAir Heated Humidifier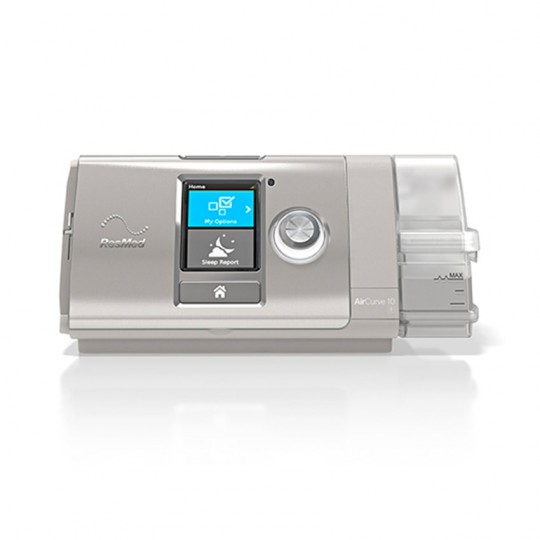 Pictures May Show Upgrades
ResMed
(Model:
37213)
What's Included

Free Fast Shipping
No Sales Tax
2 Year Limited Warranty


| Weight | Operating Sound Level | Pressure Range | Water Chamber Capacity | Warranty |
| --- | --- | --- | --- | --- |
| 2.75 lbs. | 26.6 dBA | 4 - 20 cmH2O | 380 mL | 2 Year Limited |
The AirCurve™ 10 S BiLevel Machine with HumidAir™ Heated Humidifier operates on a set, higher pressure for inspiration and a set, lower pressure for expiration. The machine's comfort features are designed to help the user adjust to the two delivered pressures. This is a bilevel machine delivering one pressure for inhalation and one for exhalation while monitoring the length of the breaths and responding to alter the timing as needed to maintain the respiratory cycle.
Features
Easy-Breathe Comfort Feature
Built-In HumidAir Heated Humidifier
TiControl and Adjustable Rise Time
LCD Displays with My Options
Enhanced Vsync Technology
SmartStart / SmartShop
SD Card and Data Storage
---
Easy-Breathe Comfort Feature
The Easy-Breathe feature on the AirCurve 10 S is designed to imitate a more natural breathing pattern. At the point of transition between the two pressures, a waveform of increasing and decreasing pressure is released to encourage a natural resting breath.
---
Built-In HumidAir Heated Humidifier
The AirCurve 10 S has a fully integrated humidifier built-in to the machine to supply moisture and a warmer temperature throughout the hose to increase therapy comfort. Using the My Options screen on the machine, the humidification level is easy to set. Numbers 1 through 8 ae lsited on the screen, 1 represents the lowest level of humidification, and 8 represents the highest. The humidifier is not required to therapy, so it may be turned off if it is not desired.
The addition of the OPTIONAL ClimateLineAir™ heated tube assists in maintaining the warm temperature throughout the hose to prevent Rainout as the environmental temperature changes.
---
TiControl and Adjustable Rise Time
The TiControl feature on the AirCurve S machine monitors the pattern of inhalation and exhalation, comparing it against the TiMax and TiMin settings on the machine. Those with respiratory disorders such as COPD or obstructive lung disease may experience early or delayed changes from inspiration to expiration, referred to as cycling. The 10 S BiLevel TiControl feature is designed to prevent cycling by setting a minimum and maximum time limit on inspiration. When the machine detects the user breathing which falls outside the machine settings, it will intervene to alter the timing of the delivered IPAP (inhalation) or EPAP (exhalation) pressure.
---
TiControl Settings
Ti Max: Maximum length of Inhalation
Ti Min: Minimum length of Inhalation
Trigger: Sensitivity level for inhalation trigger
Cycle: Sensitivity level for exhalation
Adjustable rise time is similar to TiControl. Both features support the user's ability to breathe at the appropriate time. Rise time is designed for this bilevel machine to increase the range of time from expiration to inspiration based on the set time requirement. Please Note: The rise time should not exceed the time set for inspiration due to a required higher pressure at inhalation.
IMPORTANT FUNCTION NOTE: The AirCurve 10 S machine does spontaneously regulate the breathing pattern to avoid cycling which results in inefficient breathing. This machine DOES NOT deliver a breath on a timed basis. This machine is NOT a BiLevel ST machine and DOES NOT have a back up rate setting.
---
LCD Display with My Options
The AirCurve™ 10 S BiLevel has a color LCD display. The menus are designed to be easy to read and use. Select the menu item on the screen by turning the easy grip dial. Select the My Options menu to view and modify the current settings:
Ramp time - Ease into therapy with a period of lower pressure, or select AutoRamp™ allowing the machine to sense and adjust when sleep begins.
Humidity Level - Set humidity between 1 (lowest) & 8 (highest), or turn it off.
Mask Fit - Runs a seal integrity check showing a green smiling face for a good fit or red frowning face for a poor fit.
Leak Alert- Set the device to begin beeping when a large leak is detected or the mask is removed.
SmartStart™ - Therapy automatically starts when it senses breathing.
SmartStop™ - Therapy automatically stops when the mask is removed.
Mask Type - Set the mask type being used: Nasal; Nasal Pillow; Full Face Mask.
Run Warmup - Preheat the humidifier water before starting therapy.
---
Enhanced Vsync Technology
If changes occur in mask pressure or the seal of the mask, Vsync technology is established to quickly detect the leak. Vsync leak management is developed by ResMed to track and control leakage and to relay accurate data in the instance that a leak arises. The goal is to provide the user with a factual estimation of airflow. Likewise, the differences in lung capacity can be determined by the Trigger and Cycle Sensitivity feature. The level selected reflects the respiratory effort of the user.
SmartStart / SmartStop
The intuitive AirCurve™ 10 S SmartStart™ component automatically starts the device when the user breathes into the mask. The SmartStop™ component stops the device when the user removes the mask.
SD Card and Data Storage
The AirCurve™ 10 S BiLevel records the information about the sleep therapy, which can be downloaded onto an SD Card. The SD Card is installed in the machine at the time of shipment and must be in the machine before it is used. The machine's on board memory holds compliance information for 365 sessions of use as well as detailed data for 30 sessions.
AirCurve 10 S
AirCurve 10 VAuto
AirCurve 10 ST
AirCurve 10 ASV
CPAP
VAuto
S
T
ST
ASV
ASVAuto
Easy-Breathe waveform
SmartStart
MaskFit
Trigger and cycle
Climate Control
Enhanced Climate Control Auto
Vsync leak management
Built-in wireless connectivity
myAir™
Technical specifications
90W power supply unit
AC input range:
100–240V, 50–60Hz 1.0–1.5A, Class II 115V, 400Hz 1.5A, Class II (nominal for aircraft use)
DC output:
24V --- 3.75A
Typical power consumption:
53W (57VA)
Peak power consumption:
104W (108VA)
Environmental conditions
Operating temperature:
+41°F to +95°F (+5°C to +35°C) Note: The air flow for breathing produced by this therapy device can be higher than the temperature of the room. Under extreme ambient temperature conditions (104°F/40°C) the device remains safe.
Operating humidity:
10 to 95% relative humidity, non-condensing
Operating altitude:
Sea level to 8,500' (2,591 m); air pressure range 1013 hPa to 738 hPa
Storage and transport temperature:
-4°F to +140°F (-20°C to +60°C)
Storage and transport humidity:
5 to 95% relative humidity, non-condensing

Electromagnetic compatibility

The AirCurve 10 complies with all applicable electromagnetic compatibility requirements (EMC) according to IEC60601-1-2:2007, for residential, commercial and light industry environments. It is recommended that mobile communication devices are kept at least 1 m away from the device.

Information regarding the electromagnetic emissions and immunity of this ResMed device can be found on www.resmed.com, on the Products page under Service and Support.

IEC 60601-1:2005 classification

Class II (double insulation), Type BF, Ingress protection IP22.

Sensors
Pressure sensor:
Internally located at device outlet, analog gauge pressure type, -5 to +45 cm H2O
Flow sensor:
Internally located at device inlet, digital mass flow type, -70 to +180 L/min

Maximum single fault steady pressure

Device will shut down in the presence of a single fault if the steady state pressure exceeds: 30 cm H2O for more than 6 sec or 40 cm H2O for more than 1 sec.

Sound

Pressure level measured according to ISO 17510-1:2007 (CPAP mode):
SlimLine: 26.6 dBA with uncertainty of 2 dBA
Standard: 26.6 dBA with uncertainty of 2 dBA

Power level measured according to ISO 17510-1:2007 (CPAP mode):
SlimLine: 34.6 dBA with uncertainty of 2 dBA
Standard: 34.6 dBA with uncertainty of 2 dBA


Declared dual-number noise emission values in accordance with ISO 4871:1996.

Physical - device and water tub
Dimensions (H x W x D):
4.57" x 10.04" x 5.91"
(116 mm x 255 mm x 150 mm)
Air outlet (complies with ISO 5356-1:2004):
22 mm
Weight (device and standard water tub):
44 oz (1248 g)
Weight (device and cleanable water tub):
44 oz (1248 g)
Housing construction:
Flame retardant engineering thermoplastic
Water capacity:
To maximum fill line 380 mL
Standard water tub - material:
Injection molded plastic, stainless steel and silicone seal
Cleanable water tub - material:
Injection molded plastic, stainless steel and silicone seal
Temperature
Maximum heater plate:
154°F (68°C)
Cut-out:
165°F (74°C)
Maximum gas temperature:
≤ 106°F (≤ 41°C)
Air filter
Standard:
Material: Polyester non woven fiber
Average arrestance: >75% for ~7 micron dust
Hypoallergenic:
Material: Acrylic and polypropylene fibers in a polypropylene carrier
Efficiency: >98% for ~7-8 micron dust; >80% for ~0.5 micron dust

Aircraft use

ResMed confirms that device meets the Federal Aviation Administration (FAA) requirements (RTCA/DO-160, section 21, category M) for all phases of air travel.

Wireless module
Technology used:
3G (USA and Canada only)
2G GSM (all regions except USA and Canada

FCC ID: 2ACHL-AIR10CD

The AirCurve 10 device complies with FCC Rules.
The AirCurve 10 device should be used at a minimum distance of 0.8" (2 cm) from the body during operation. Additional information regarding the FCC Rules for this device can be found on www.ResMed.com/ProductSupport.

Operating pressure range
VAuto, S, ST, T:
3 to 25 cm H2O
CPAP
4 to 20 cm H2O
Supplemental Oxygen
Maximum flow:
15 L/min (CPAP, ASV); 4 L/min (ASVAuto
Pneumatic flow path

Flow sensor
Blower
Pressure sensor
Mask
Air tubing
Water tub
Device
Inlet filter

Design life
Device, power supply unit:
5 years
Cleanable water tub:
2.5 years
Standard water tub, air tubing:
6 months

General

The patient is an intended operator
Our service area covers most of Southern California including Los Angeles and surrounding cities.
To see a full list of cities covered in our service area please click here.