Semi-Electric Hospital Bed Rental
Semi-Electric Hospital Bed Rental




Pictures May Show Upgrades
Invacare
(Model:
Rent-Hospital-Bed-Semi)
Weekly: $80.00
Monthly: $165.00
What's Included

Semi-Electric Hospital Bed
Side Rails of Your Choice (Half or Full)
Basic Foam Mattress
Rent-to-Buy Option (Only first month's payment applies towards purchase)

The semi-electric bed is the most budget-friendly bed rental. It has basic electrical controls which elevate and lower the back and legs as well as a manual crank to adjust the height of the bed. This economy bed is ideal for short-term use, such as after surgery or for recovering patients, however, it could be used for long-term use as well.
In Stock! Call Now: 818-981-9906
We always carry this item in stock for our customers to rent.
The rental equipment must be returned on the due date to one of our locations or picked up by one of our delivery drivers (fees apply). If you are unable to return the equipment on the due date your rental will be automatically extended by daily, weekly, or monthly depending on the lowest cost to the customer.
All our rental equipment can be picked up from one of our locations below.
We can deliver rental equipment to our service area customers (fees apply).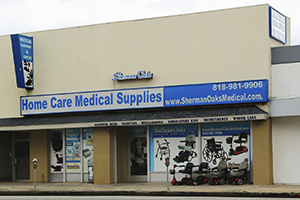 Hours:
Mon-Fri: 9AM-6PM
Sat: 10AM-3PM
Sherman Oaks Showroom
Phone: 818-981-9906
Fax: 818-981-6698
info@shermanoaksmedical.com
Hours:
Mon-Fri: 9AM-5:30PM
Sat: 10AM-3PM
Repair Center & Warehouse
Phone: 818-896-9996
Fax: 818-896-4851
repairs@shermanoaksmedical.com
| Disassembles | Weight Capacity | Sleep Surface |
| --- | --- | --- |
| Yes | 350 lbs. | 36" x 80" |
Invacare Semi-Electric Hospital Bed
Invacare Semi-Electric Hospital Beds are available for rent to all our local customers residing in Los Angeles, San Fernando Valley, and many more local Southern California cities. We rent out only brand new or in great condition beds. All previously rented beds undergo a thorough cleaning and sanitation process before being put back in our rental fleet. Because of customer testimonials, we have chosen to rent out ONLY the most popular and high demanded Invacare brand hospital beds. The hospital beds come with universal bed ends, half or full length side rails (customer's choice), and a basic foam mattress. The mattress can be upgraded to one of the many more comfortable and therapeutic choices for an upcharge. This semi electric hospital bed, bearing a user weight capacity of 450 lbs., can be easily transported and stored as it can be broken down to six manageable pieces.
FAQ
Q: What is the main difference between this bed and the full electric?
A: The full electric hospital bed offers a third motor that moves the whole bed up and down (height adjustment). With the semi electric hospital bed, you would have to bend down and crank it manually to raise the hospital bed.
Q: If I like the bed, can I purchase it?
A: Yes. If you like the bed, we will apply the first months rental and delivery charge to the purchase price of the bed.
Q: Is the bed compatible with a patient lift?
A: Yes, the hospital bed has an open bottom, allowing the patient lift easy access to roll in and out.
Q: What type of rails should I choose?
A: Half Side Rails are recommended for patients who are able to get in and out of the bed on their own. Full Side Rails are recommended for people who are at risk of falling or suffer from Alzheimer's or Dementia.
Q: What bed sheets can I use with this bed?
A: Hospital beds are considered to be Twin Long beds, which means size 36"W x 80"L sheets will be required. We offer both a Fitted Bottom Sheet for $19.95 and a 3-Piece Sheet Set, which includes the Fitted Bottom Sheet, a Top Sheet, and a Standard Pillowcase, for $45.95.
Side Rails Options
Choose between half length side rails or full side rails with your hospital bed rental.
Half Side Rails
Included With Rental
Aids the user to get in and out of bed
Covers the area from the shoulder to the head of the bed.
Allows for the user to move in and out of the bed alone.
Full Side Rails
Included With Rental
User cannot drop down the rails without assistance.
Prevents the user from getting out of bed unassisted.
Ideal for users with high risk of fall.
Mattress Rental Options
Below are the mattress options that come with this bed rental. You should consider the users risk of developing Pressure Ulcers or if the user already has Pressure Ulcers you should pick a mattress that's designed for their stage.
Invacare 5180 Basic Foam Mattress
Included With Rental
Good for users at Low Risk of developing Pressure Ulcers
Firm Comfort
High quality 1.5 lbs. density foam yields durability, stability, and comfort in a one-piece construction
For temporary, short-term use
Invacare IPM1080 Softform Premier Therapeutic Support Mattress
$45/Month
Ideal for users at High Risk of developing Pressure Ulcers
High-resiliency foam takes the shape of the user's body for a remarkable fit and comfort
Individual castellated cells augment body contact to effectively reduce pressure
Its fluid-resistant, four-way stretch cover protects the user's skin from wounds, damages, and other abrasion
Roho Sofflex 2 Air Mattress Replacement System
$300/Month
Ideal for users with Stage I or II Pressure Ulcers
Roho's Shape Fitting Technology allows for redistribution of pressure which provides protection for the skin and soft tissue.
Three separate sections create a multi-zoned support surface, allowing for a more personalized fit and maximum adjustability.
Inflation ports on side allow for quick & easy access and inflation to each section.
The cover not only is fluid-resistant, but flame-resistant as well. The cover can easily be disinfected and cleaned without damaging or ruining the material.
Invacare MA55 Alternating Pressure w/ On-Demand Low Air Loss Mattress
$300/Month
Ideal for users with Stage II or III Pressure Ulcers
Pressure adjustments available for customized comfort for the user (25%, 50%, or 75%).
Manual fowler button is there to prevent bottoming out
Dual layered & quilted nylon cover aids in the reduction of friction and shear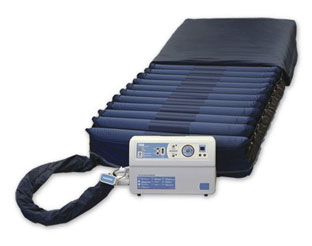 American National Alternating Pressure w/ On-Demand Low Air Loss Mattress
$550/Month
Ideal for users with Stage III or IV Pressure Ulcers
Domestic high strength mattress construction

Fowler feature for seat inflation when head is elevated
Dual modes of therapy

Power consumption is kept at a minimum
Lockout to eliminate unintentional settings change
Caregiver is alerted by the sensor alarm if and when there is a kink in the hose or a leak in the mattress
Optional Hospital Bed Accessories
In addition to your hospital bed with side rails rental and mattress rental you can also add additional items to fit your needs better.
Over-The-Bed Table Rental
$45/Month
Gives user the advantage to read, write, eat, etc.
The table is on wheels, allowing the user to be able to move it out of their way if necessary.
Bed Extension Kit & Invacare Soft Form Premier Mattress 84"
$80/Month
Ideal for users with a height of 6'2" and above
Combined with an 84" long Invacare Softform Premier Therapeutic Support Mattress for added comfort.
Offset Trapeze Bar Rental
$45/Week $150/Month
Help's the user change positions while laying in the bed, and aids them to transfer from the bed to chairs with minimum attendant assistance.
Wide range of height adjustments and hand bar positions are available to maximize the user's accessibility.
Weight Capacity of 168 lbs.
Dimensions:
88"L x 15"-23"H x 36"W
Sleep Surface:
80"L x 36"W
Product Weight Capacity:
450 lb.
Patient Weight Capacity:
350 lb.
Code Approval:
Regulatory Standard: UL962, CSA Certified
Warranty:
Limited Warranty: 5 Year Welds, 2 Year Mechanical/Electrical
Our service area covers most of Southern California including Los Angeles and surrounding cities.
To see a full list of cities covered in our service area please click here.