Sunrise Medical JAY® Union® Wheelchair Cushion
Sunrise Medical JAY® Union® Wheelchair Cushion





Pictures May Show Upgrades
Sunrise Medical
(Model:
JAY-Union)
What's Included

Free Shipping
Cushion Cover
2-Year Limited Warranty

JAY Flow® fluid and memory foam wheelchair cushion for high performance skin protection and positioning
| Weight | Weight Capacity | Thickness | Warranty |
| --- | --- | --- | --- |
| 5.25 lbs. | 500 lbs. | 3.5", 4.5" | 2-Year Limited |
Sunrise Medical JAY® Union® Wheelchair Cushion
The Jay Union cushion combines a Visco foam top layer with a middle gel fluid-layer to create the ultimate high performance cushion, and it requires little to no fitting readjustment. The contoured base includes a pelvic loading area and two lateral pelvic wedges that provide lateral stability for the user. Other added features are the Aqua-guard coated zipper that repels moisture, inner moisture-resistant coated cover and the antimicrobial X-static fabric which includes threads embedded with 99.9% pure silver, a natural antimicrobial element
Contoured Foam Base with Lateral Pelvic Support
The Union's foam base is moderately contoured to encourage proper positioning of the pelvis and thighs. 1" lateral pelvic wedges offer superior lateral stability and alignment of the pelvis for more involved positioning needs.
Choose the Reduced Profile Option to lower the Union's overall height by 1" and maintain a lower seat-to-floor height.
Visco™ Memory Foam Top Layers
The Union features a top layer of soft, Visco memory foam, with an extra layer covering the Pelvic Loading Area. This combination creates the ultimate wheelchair seating surface that distributes weight for pressure reduction and maximum comfort.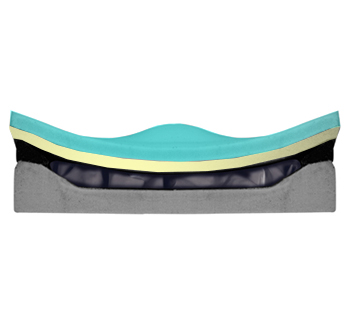 JAY Flow® Fluid Insert
The JAY Flow fluid insert that lies beneath the Visco™ foam conforms to each individual's unique contours for even pressure distribution beneath the pelvis and a reduced risk of skin breakdown.
Innovative Dual-Cover System
For convenience and protection, the JAY Union wheelchair cushion features a dual-cover system. The water-resistant inner cover is easy to clean and includes anti-wicking seam thread and Aqua-guard zipper for foam protection. The machine-washable, stretch outer cover utilizes naturally anti-microbial, silver-impregnated X-static® fiber. A layer of 3DX spacer fabric promotes airflow for additional skin protection.
The Union's outer cover now includes a handle for easy removal, zipper cover flap for a clean look, waterfall seams for enhanced comfort, and a QR scan code on the label for quick access to this web page.
Product Type
Foam & Fluid Cushion
HCPCS Code
E2607/E2608
Width Range
14" to 24"
Depth Range
14" to 24"
Product Weight
5.25 lbs. (16x18)
Height
Standard Profile: 4.5"
Reduced Profile: 3.5"
Weight Capacity
14" to 21" widths: 300 lbs.
22" to 24" widths: 500 lbs.
Base
Pre-contoured, high-resiliency foam with additional lateral pelvic support and soft Visco memory foam top layer
Insert
JAY Flow™ fluid tripad
Inner Cover
Dartex® coated Lycra® with Aquaguard zipper and anti-wicking thread
Outer Cover
X-static® silver thread stretch
JAY Your Way Customizations Available?
Yes
Our service area covers most of Southern California including Los Angeles and surrounding cities.
To see a full list of cities covered in our service area please click here.