Supracorn Stimulite® Sport Wheelchair Cushion
Supracorn Stimulite® Sport Wheelchair Cushion
Supracor
(Model:
Stimulite-Sport)
What's Included

Free Shipping
Cushion Cover
Mesh Laundry Bag
2-Year Limited Warranty

The Ultimate Athletic Cushion—Superior Shock Absorption, Maximum Ventilation and Exceptional Stability
| Weight | Weight Capacity | Thickness | Warranty |
| --- | --- | --- | --- |
| 2+ lbs. | 200 lbs. | 2" | 2-Year Limited |
Supracorn Stimulite® Sport Wheelchair Cushion
A low profile, planar design for athletes' sports chairs and active users, the ventilated, lightweight Stimulite Sport cushion is 2-inches thick and weighs slightly more than 2 pounds. A soft layer of Stimulite honeycomb is fused to a robust bottom layer with built - in bolsters for maximum shock absorption, support and stability. A really "cool" cushion for competition and everyday use. Machine washable.
Supracorn Stimulite® Sport Wheelchair Cushion Features:
Multilayered honeycomb provides internal contouring for uniform load distribution.
2" thick
Lightweight -- 2+ pounds.
Machine washable and dryer safe.
Total ventilation through the use of perforated honeycomb that circulates air and evaporates moisture.
Breathable cover and side vents for complete ventilation.
Product Care
Stimulite® honeycomb can be hand laundered or machine washed in cold water, using a gentle cycle. If your Stimulite honeycomb product includes a cover, wash teh honeycomb and cover separately. Use only a small amount (~1 TBSP) of mild detergent. DO NOT USE CHLORINE BLEACH. After washing, shake the honeycomb to remove excess water and then either let it air dry or tumble dry on law heat in the dryer. Do not dry honeycomb with wet clothes as this causes heat retention which can damage the honeycomb.
All Stimulite cushions and support surfaces come with their own mesh laundry bag for machine washing and drying.
*Use front load washers only as agitator can damage honeycomb
Maceration Resistance
Skin maceration is softening of the skin as a result of continual exposure to heat and bodily fluids or moisture. Severely softened or macerated skin is less tolerant of pressure and can lead to breakdown. Stimulite® honeycomb is perforated, enabling air to circulate and moisture to evaporate which helps maintain skin integrity and keep the body at ambient temperature. All of our Stimulite products are machine washable and dryer safe, making it easy to maintain good skin hygiene.
Pressure Relief plus Positioning
Honeycomb's cellular structure provides uniform load distribution and extraordinary comfort. Stimulite honeycomb relieves pressure by distributing it away from hot spots. As a result, bony protuberances "feel" the same pressure as the surrounding anatomy. The honeycomb cells conform to body shape, and distribute weight over a much wider area than conventional products comprised of foam, gel and air. Additionally, Stimulite honeycomb stabilizes any position due to the axial buttressing of the honeycomb cell walls perpendicular to the anatomy. As an added health benefit, the honeycomb cells flex and compress with movement, stimulating blood flow to enhance circulation.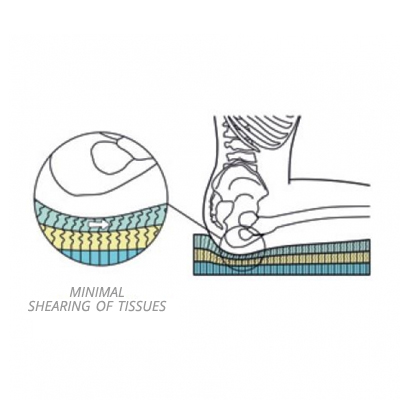 Shear Force Reduction
The horizontal stiffness of a material determines both its shear resistance and stability. Too much stiffness increases shear forces, while too little decreases stability. Stimulite honeycomb minimizes shearing without sacrificing stability. The honeycomb cells align themselves axially to the body, flex with movement to reduce shear forces against the skin and then instantaneously resume their original shape.
| | |
| --- | --- |
| Thickness | 2" |
| Machine Washable | Yes |
| Dryer Safe | Yes |
| Weight capacity | 200 lbs. |
| Weight | 2+ lbs. |
Our service area covers most of Southern California including Los Angeles and surrounding cities.
To see a full list of cities covered in our service area please click here.