Full-Electric Hospital Bed Rental

ELECTRIC HEAD, FOOT, AND BASE INCLUDES BASIC FOAM MATTRESS AND CHOICE OF HALF OR FULL RAILS
Invacare
(Model:
Rent-Hospital-Bed-Full)
Weekly: $85.00
Monthly: $185.00
What's Included

Full-Electric Hospital Bed
Side Rails of Your Choice (Half or Full)
Basic Foam Mattress
Rent-to-Buy Option (Only first month's payment applies towards purchase)
In Stock! Call Now: 818-981-9906
We always carry this item in stock for our customers to rent.
All rental equipment must be returned by the due date or your rental will be automatically extended and paid with the credit card on the file.
We can deliver rental equipment to our service area customers click here (fees apply).
NEW! Sherman Oaks Showroom (Sales)
Phone: 818-981-9906
Fax: 818-981-6698
info@shermanoaksmedical.com
| Disassembles | Weight Capacity | Sleep Surface |
| --- | --- | --- |
| Yes | 450 lbs. | 36" x 80" |
Invacare Full-Electric Hospital Bed Rental
The Invacare Full-Electric Hospital Bed is our most popular rental bed. The rental is available to all local customers residing in Los Angeles and surrounding Southern California cities. Our rental beds are in great condition and all previously rented beds undergo a thorough cleaning and sanitation process. The bed rental includes a basic foam mattress and a pair of either half or full-side rails, making it a great hospital bed for home use. Upgraded mattress options are available for patients in need of a soft sleep surface or for skin protection. Please scroll down to view the mattress options.
About The Invacare Full Electric Hospital Bed
The Invacare® Full-Electric Bed offers the greatest convenience for the patient and caregiver. The easy-to-use pendant control provides motorized positioning of the upper body and knees and also adjusts bed frame height for efficient use of accessories and for safe and easy transfer.
Invacare Full-Electric Hospital Bed Features:
DC Low Voltage
Bed Height: 15″ min – 23″ Max. (Measurement from floor to bed deck.)
Sleep Surface: 36″W x 80″L
Weight Capacity: 450 lbs.
FAQ
Q: What is the main difference between this bed and the semi-electric?
A: The full electric hospital bed offers a third motor that moves the whole bed up and down (height adjustment). With the semi-electric hospital bed, you would have to bend down and crank it manually to raise the hospital bed.
Q: If I like the bed, can I purchase it?
A: Yes. If you like the bed, we will apply the first month's rental and delivery charge to the purchase price of the bed.
Q: Is the bed compatible with a patient lift?
A: Yes, the hospital bed has an open bottom, allowing the patient lift easy access to roll in and out.
Q: What type of rails should I choose?
A: Half Side Rails are recommended for patients who are able to get in and out of bed on their own. Full Side Rails are recommended for people who are at risk of falling or suffering from Alzheimer's or Dementia.
Q: What bed sheets can I use with this bed?
A: Hospital beds are considered to be Twin Long beds, which means size 36" W x 80"L sheets will be required. We offer both a Fitted Bottom Sheet for $19.95 and a 3-piece Sheet Set, which includes the Fitted Bottom Sheet, a Top Sheet, and a Standard Pillowcase, for $45.95.
Side Rails Options
Choose between half-length side rails or full-side rails with your hospital bed rental.
Half Side Rails
Included With Rental
Aids the user in getting in and out of bed
Covers the area from the shoulder to the head of the bed.
Allows for the user to move in and out of the bed alone.
Full Side Rails
Included With Rental
Users cannot drop down the rails without assistance.
Prevents the user from getting out of bed unassisted.
Ideal for users with a high risk of falls.
Mattress Rental Options
Below are the mattress options that come with this bed rental. You should consider the user's risk of developing Pressure Ulcers or if the user already has Pressure Ulcers you should pick a mattress that's designed for their stage.
Basic Foam Mattress
Included With Rental
Good for users at Low Risk of developing Pressure Ulcers
Firm Comfort
High-quality 1.5 lbs. density foam yields durability, stability, and comfort in a one-piece construction
For temporary, short-term use
Therapeutic Support Mattress
$45/Month
Ideal for users at High Risk of developing Pressure Ulcers
High-resiliency foam takes the shape of the user's body for a remarkable fit and comfort
Individual castellated cells augment body contact to effectively reduce pressure
Its fluid-resistant, four-way stretch cover protects the user's skin from wounds, damage, and other abrasions
Invacare MA55 Alternating Pressure w/ On-Demand Low Air Loss Mattress
$300/Month
Ideal for users with Stage II or III Pressure Ulcers
Pressure adjustments are available for customized comfort for the user (25%, 50%, or 75%).
The manual Fowler button is there to prevent bottoming out
Dual-layered & quilted nylon cover aids in the reduction of friction and shear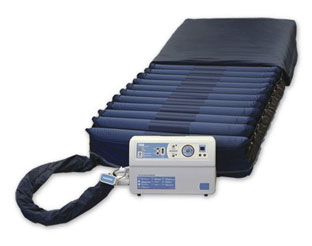 American National Alternating Pressure w/ On-Demand Low Air Loss Mattress
$550/Month
Ideal for users with Stage III or IV Pressure Ulcers
Domestic high-strength mattress construction

Fowler feature for seat inflation when the head is elevated
Dual modes of therapy

Power consumption is kept at a minimum
Lockout to eliminate unintentional settings change
Caregiver is alerted by the sensor alarm if and when there is a kink in the hose or a leak in the mattress
Optional Hospital Bed Accessories
In addition to your hospital bed with side rails rental and mattress rental you can also add additional items to fit your needs better.
Over-The-Bed Table Rental
$45/Month
Gives users the advantage to read, write, eat, etc.
The table is on wheels, allowing the user to be able to move it out of their way if necessary.
Bed Extension Kit & Invacare Soft Form Premier Mattress 84"
$80/Month
Ideal for users with a height of 6'2" and above
Combined with an 84" long Invacare Softform Premier Therapeutic Support Mattress for added comfort.
Offset Trapeze Bar Rental
$45/Month
It helps the user change positions while lying in the bed, and aids them to transfer from the bed to chairs with minimum attendant assistance.
A wide range of height adjustments and hand bar positions are available to maximize the user's accessibility.
Weight Capacity of 168 lbs.
| | |
| --- | --- |
| Dimensions: | 88"L x 15"-23"H x 36"W |
| Sleep Surface: | 80"L x 36"W |
| Product Weight Capacity: | 450 lb. |
| Patient Weight Capacity: | 350 lb. |
| Code Approval: | Regulatory Standard: UL962, CSA Certified |
| | |
Our service area covers most of Southern California including Los Angeles and surrounding cities.
To see a full list of cities covered in our service area please click here.
Agoura Hills
Alhambra
Altadena
Arcadia
Arleta
Artesia
Avalon
Azusa
Baldwin Park
Bel Air
Bell
Bell Gardens
Bellflower
Beverly Hills
Bradbury
Brentwood
Burbank
Cahuenga Pass
Calabasas
Camarillo
Canoga Park
Carson
Cerritos
Chatsworth
Claremont
Commerce
Compton
Covina
Cudahy
Culver City
Diamond Bar
Downey
Duarte
Eagle Rock
El Monte
El Segundo
Encino
Gardena
Glendale
Glendora
Granada Hills
Hawaiian Gardens
Hawthorne
Hermosa Beach
Hidden Hills
Huntington Park
Industry
Inglewood
Irwindale
Kagel Canyon
La Canada
La Crescenta
La Habra Heights
La Mirada
La Puente
La Tuna Canyon
La Verne
Lake Balboa
Lake View Terrace
Lakewood
Lancaster
Lawndale
Lomita
Long Beach
Los Angeles
Lynwood
Malibu
Manhattan Beach
Marina Del Rey
Maywood
Mission Hills
Monrovia
Montebello
Monterey Park
Montrose
NoHo Arts District
North Hills
North Hollywood
Northridge
Norwalk
Oak Park
Olive View
Oxnard
Pacific Palisades
Pacoima
Palmdale
Palos Verdes
Panorama City
Paramount
Pasadena
Pico Rivera
Pomona
Porter Ranch
Redondo Beach
Reseda
Rolling Hills
Rosemead
San Dimas
San Fernando
San Gabriel
San Marino
Santa Barbara
Santa Clarita
Santa Fe Springs
Santa Monica
Sepulveda
Shadow Hills
Sherman Oaks
Sierra Madre
Signal Hill
Simi Valley
South El Monte
South Gate
South Pasadena
Stonehurst
Studio City
Sun Valley
Sunland
Sylmar
Tarzana
Temple City
Thousand Oaks
Toluca Lake
Toluca Woods
Topanga
Torrance
Tujunga
Valencia
Valley Glen
Valley Village
Van Nuys
Ventura
Vernon
Walnut
Warner Center
West Covina
West Hills
West Hollywood
West Toluca
Westlake Village
Westwood
Whittier
Winnetka
Woodland Hills