Quickie Iris Tilt-in-Space Manual Wheelchair
Sunrise Medical
(Model:
EIZ4-2)
What's Included

Limited Lifetime Warranty

The Quickie SR45 Tilt-in-Space Manual Wheelchair is one of the most customizable products in our inventory. We value our customers very much and always make sure the prices we offer are more than appropriate for given products. While the List Price for the base model of this product is $2,945.00, the BASE PRICE we offer starts with $2,210.00.
| Weight | Weight Capacity | Seat Width | Seat Depth | Warranty |
| --- | --- | --- | --- | --- |
| 39 lbs. | 300-400 lbs. | 14" - 22" | 14" - 22" | Lifetime Limited |
Quickie Iris Tilt-in-Space Manual Wheelchair


The ultimate tilt-in-space wheelchair, the Quickie IRIS® Manual Tilt Wheelchair features up to 55° of Intelligent Rotation in Space Technology, the broadest range of positioning and caregiver options, numerous adjustments, and it's one of the lightest tilt-in-space wheelchairs available today.
Features:
40° or 55° of Intelligent Rotation in Space Technology
Intelligent Rotation in Space technology means the seat frame rotates around the user's center of gravity. This results in a smooth tilting motion that is easy for you to control and allows for the shortest possible wheelbase that is easy for you to maneuver. The IRIS manual wheelchair features 40° or 55° rotation ranges that can be set to achieve up to 45° or 60° of posterior rotation for superior positioning.
The Quickie IRIS now features a new Standard weight capacity of 300 lbs and Heavy Duty weight capacity of 400 lbs.
JAY Lower Extremity Support
The new JAY Lower Extremity Support option is fully integrated into the Quickie IRIS hanger mount. The swing in/out latch mechanism design makes changing hangers from the lower extremity support a very intuitive process.
Available in two pad sizes, the technology allows for vertical and horizontal angle adjustment to achieve the proper support for our clients' needs.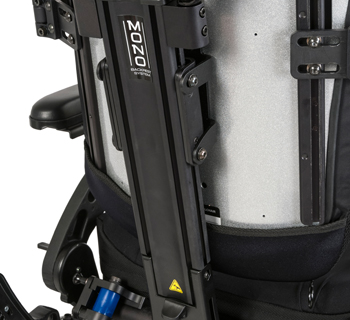 MONO Backrest System® Option
The MONO Backrest System's single-post offers limitless seating and positioning capabilities. By mounting the backrest to a single central post, the backrest and chair widths may be selected independently, hardware interference is eliminated to allow for infinite adjustment of lateral thoracic supports, and the backrest can achieve 2" of midline backrest offset.
The MONO Backrest System offers an optional dynamic function, 35° angle adjustment, and folds forward for easy transport.
Intuitive Hanger Designs
The IRIS's new swing-in/swing-out hanger design features an intuitive bi-directional release lever that follows your hand's movement. A tapered locking mechanism prevents the hanger from loosening over time.
The Elevating/Articulating Legrest includes 2" of height adjustment to better align with the knee joint for a natural motion. Audible clicks index its position as it is elevated. The improved latch mechanism allows swapping between swing-in/swing-out hangers and ELR/ALR without additional hardware.
Model Number
EIZ4-2
Starting Retail Price
IRIS: $2,945
IRIS SE: $2,745
Frame Style
Rotation-in-Space
HCPCS Code
E1161
Wheelchair Weight
39 lbs.
Frame Material
Aluminum
User Weight Capacity
Standard: 300 lbs.
Heavy Duty: 400 lbs.
Transit Approved
Yes
Shipping Dimensions
Boxed: 36" L x 28" W x 37" H and 20" L x 10" W 20" H
Palletized: 47" L x 40" W x 54" H
Average Shipping Weight
Boxed: 90 lbs. and 15 lbs.
Palletized: 150 lbs.
FRAME AND FEATURE MEASUREMENTS
Seat Widths
14" to 22"
Seat Depths
14" to 22"
Frame Angle
N/A
Front Seat-to-Floor Height
12.5" to 19"
Rear Seat-to-Floor Height
12.5" to 19"
Lower Leg Length Setting
N/A
Back Height
15" to 21" or 18" to 24"
Angle Adjustable Backrest Adjustment Range
-30° to 5°
Camber
0°
Center of Gravity (COG) Adjustment
N/A
Tilt Range
40°
55°
OPTIONS AND ACCESSORIES
Frame Type
Frame Options:
Standard
Heavy Duty
Vent/Battery Base Tray
Contrature Seat Frame

Frame Struts:
Fixed
Width Adjustable
Special Packages
N/A
Tilt Release Options
Foot Release
Backrest Dual Trigger
Frame Inset
N/A
Caster Wheels
4" x 1.25" Semi-Pneumatic
5" x 1" Polyurethane
5" x 1.5" Semi-Pneumatic
6" x 1" Polyurethane
6" x 1.5" Semi Pneumatic
8" x 1" Polyurethane
8" x 1.5" Semi-Pneumatic
8" x 2" Pneumatic
8" x 2" Pneumatic with Airless Insert
Caster Options
N/A
Hangers
60° Swing In/Out
70° Swing In/Out
80° Swing In/Out
70° Swing In/Out Front Mount
80° Swing In/Out Front Mount
90° Swing In/Out Front Mount
70° Heavy Duty Front Mount Lift-Off
80° Heavy Duty Front Mount Lift-Off
90° Heavy Duty Front Mount Lift-Off
Elevating Hanger Front Mount
Articulating
Elevating
Contracture
Footplates
Composite
Composite Angle Adjustable
Adult Angle Adjustable
Kids Angle Adjustable
Aluminum
Platform Flip-up
Footplate Options
Neoprene Covers
Heel Loops
Toe Loops
Leg strap
Extension Tubes
Axle
Quick Release
Threaded
Axle Plate
Standard
One Arm Drive
Rear Wheel Type
12" Mag
16" Mag
20" Mag / 5 Spoke Mag
22" Mag / 5 Spoke Mag
24" Mag / 5 Spoke Mag
24" Spoke
Rear Wheel Tire
Pneumatic
Pneumatic with Airless Insert
Full Poly
Low Poly
Handrims
Aluminum Anodized
Plastic Coated
Hub Lock
12" or 16"
Suspension
N/A
Backrest Type
Fixed
Height Adjustable
Reclining
Dynamic
Mono Back
J3
Back Post Options
Adjustable Stroller Handles
Removable Extension
Backrest Options
N/A
Back Upholstery
J3
Military Service Patches
N/A
Armrests
Dual Post Height Adjustable
Dual Post Flip Back
Dual Post
Dual Post Flip Back Height Adjustable
Length Adjustable Locking Flip-Up
Single Post Height Adjustable
Adjustable Locking Flip-up
Arm Pads
Desk Length - Classic
Desk Length - Contour
Full Length - Classic
Full Length - Contour
Foam
Ergo armpad
Wheel Locks
Push to Lock
Attendant (Foot Lock)
Optional Extension Handle
Seating
Standard Seat Pan
Drop Seat Pan
JAY Cushion
Power Assist
N/A
Grade Aid
N/A
Anti-Tips
Rear Anti-tips
Side Guards
Plastic Regular
Plastic Kids
Side Guard Options
N/A
Positioning Belts
1.5" Auto Buckle
2" Aircraft Buckle
2" Padded Aircraft Buckle
2" Dual Pull Squeeze Pad
Tray Tables
Small
Medium
Large
X-Large
Accessories
Quickie Backpack
Seat Pouch
Caddy
O2 Holder
IV Pole
Clear Spoke Guards
Black Spoke Guards
Vent Tray for LTV Ventilators
Vent Tray for Trilogy Ventilators
JAY Lower Extremity S/A Support
Frame Color Options
Aztec Gold
Black
Black Cherry
Black Opal
Blue Opal
Candy Blue
Candy Purple
Candy Red
Electric Blue
Evergreen
Glow
Green Apple
Hot Sparkle Pink
Mauve Pink
Rootbeer
Sparkle Silver
Sunrise Orange
Titanium Color Paint
Yellow
Matte Black
Matte Black Cherry
Matte Electric Blue
Matte Evergreen
Matte Purple
Desert Camouflage
Mossy Oak Camouflage
Stars & Stripes
Zebra
Anodized Color Options
N/A
Limited Lifetime Warranty
Our service area covers most of Southern California including Los Angeles and surrounding cities.
To see a full list of cities covered in our service area please click here.
Agoura Hills
Alhambra
Altadena
Arcadia
Arleta
Artesia
Avalon
Azusa
Baldwin Park
Bel Air
Bell
Bell Gardens
Bellflower
Beverly Hills
Bradbury
Brentwood
Burbank
Cahuenga Pass
Calabasas
Camarillo
Canoga Park
Carson
Cerritos
Chatsworth
Claremont
Commerce
Compton
Covina
Cudahy
Culver City
Diamond Bar
Downey
Duarte
Eagle Rock
El Monte
El Segundo
Encino
Gardena
Glendale
Glendora
Granada Hills
Hawaiian Gardens
Hawthorne
Hermosa Beach
Hidden Hills
Huntington Park
Industry
Inglewood
Irwindale
Kagel Canyon
La Canada
La Crescenta
La Habra Heights
La Mirada
La Puente
La Tuna Canyon
La Verne
Lake Balboa
Lake View Terrace
Lakewood
Lancaster
Lawndale
Lomita
Long Beach
Los Angeles
Lynwood
Malibu
Manhattan Beach
Marina Del Rey
Maywood
Mission Hills
Monrovia
Montebello
Monterey Park
Montrose
NoHo Arts District
North Hills
North Hollywood
Northridge
Norwalk
Oak Park
Olive View
Oxnard
Pacific Palisades
Pacoima
Palmdale
Palos Verdes
Panorama City
Paramount
Pasadena
Pico Rivera
Pomona
Porter Ranch
Redondo Beach
Reseda
Rolling Hills
Rosemead
San Dimas
San Fernando
San Gabriel
San Marino
Santa Barbara
Santa Clarita
Santa Fe Springs
Santa Monica
Sepulveda
Shadow Hills
Sherman Oaks
Sierra Madre
Signal Hill
Simi Valley
South El Monte
South Gate
South Pasadena
Stonehurst
Studio City
Sun Valley
Sunland
Sylmar
Tarzana
Temple City
Thousand Oaks
Toluca Lake
Toluca Woods
Topanga
Torrance
Tujunga
Valencia
Valley Glen
Valley Village
Van Nuys
Ventura
Vernon
Walnut
Warner Center
West Covina
West Hills
West Hollywood
West Toluca
Westlake Village
Westwood
Whittier
Winnetka
Woodland Hills