Suitcase Wheelchair Ramp Rental (2ft, 3ft, or 4ft)
Suitcase Wheelchair Ramp Rental (2ft, 3ft, or 4ft)










Pictures May Show Upgrades
EZ-Access
(Model:
Rent-Suitcase-Ramp)
Weekly: $45.00
Monthly: $65.00
What's Included

Rent-to-Buy Option (Only first month's payment applies towards purchase)
Ramp sizes: 2ft, 3ft, or 4ft
In Stock! Call Now: 818-981-9906
We always carry this item in stock for our customers to rent.
The rental equipment must be returned on the due date to one of our locations or picked up by one of our delivery drivers (fees apply). If you are unable to return the equipment on the due date your rental will be automatically extended by daily, weekly, or monthly depending on the lowest cost to the customer.
All our rental equipment can be picked up from one of our locations below.
We can deliver rental equipment to our service area customers (fees apply).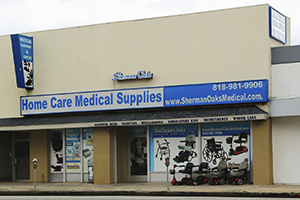 Hours:
Mon-Fri: 9AM-6PM
Sat: 10AM-3PM
Sherman Oaks Showroom
Phone: 818-981-9906
Fax: 818-981-6698
info@shermanoaksmedical.com
Hours:
Mon-Fri: 9AM-5:30PM
Sat: 10AM-3PM
Repair Center & Warehouse
Phone: 818-896-9996
Fax: 818-896-4851
repairs@shermanoaksmedical.com
| Product Weight | Weight Capacity | Length | Width | Max Height | Folding |
| --- | --- | --- | --- | --- | --- |
| 12 lbs. - 20 lbs. | 800 lbs. | 24" - 48" | 29.5" | 4" - 8" | Single Fold |
The SUITCASE Singlefold AS Ramp is one of our most versatile portable ramps. This ramp can be used as one unit or easily separated into two lightweight sections, making it even more convenient to use, carry, and store. This ultra-strong ramp provides the safety and strength required while remaining light and portable. Features an applied, slip-resistant surface and ergonomic carrying handles. Learn more about this convenient portable singlefold ramp by clicking on each tab.
Ramp sizes: 2ft, 3ft, and 4ft.
Features
Ramp Hinge Separation:
By simply removing the two hinge pins, the SUITCASE Singlefold AS Ramp separates into two easy-to-carry sections.
Ergonomically Designed Handles:
These make your SUITCASE Singlefold AS Ramp easy to carry, wherever you may go. Flexible and non-breakable, these handles offer ultimate comfort when carrying your portable ramp.
Slip-resistant Surface:
The surface of the SUITCASE Singlefold AS Ramp features an applied texture for slip-resistance.
Self-adjusting Bottom Transition Plates:
To make the conversion from ramp to ground, the SUITCASE Singlefold AS Ramp offers self-adjusting bottom transition plates, which independently adjust to the ground surface.
Made in the USA and carries a lifetime warranty.
SUITCASESFAS02
SUITCASESFAS03
SUITCASESFAS04
Made of aluminum
Yes
Yes
Yes
Slip-resistant surface
Yes
Yes
Yes
Built-in carrying handle
Yes
Yes
Yes
Usable size
2' x 29.5"
3' x 29.5"
4' x 29.5"
Folded size (L x W x H)
24" x 15" x 4.5"
36" x 15" x 4.5"
48" x 15" x 4.5"
Weight
6 each lbs.
(2 sections)
8 each lbs.
(2 sections)
10 each lbs.
(2 sections)
Weight capacity
800 lbs.
800 lbs.
800 lbs.
For wheelchairs & scooters
Yes
Yes
Yes
Usage guidelines
Curbs,
1 step
Curbs,
1 step
Curbs,
1-2 steps
Our service area covers most of Southern California including Los Angeles and surrounding cities.
To see a full list of cities covered in our service area please click here.